:86-371-86151827 86151527
:0086-371-86011881
Henan Bebon International co.,ltd is a steel-bar-specialized factory, located in zhengzhou city, south of henan province. Found in 2000, it takes an area of 520,000 square meters.
ASTM4620H
Alloy steels those that are added with alloying elements to achieve certain material properties. Alloying elements are added in lower quantities to increase hardenability or strength, and in larger quantities to achieve special properties like high temperature stability or corrosion resistance.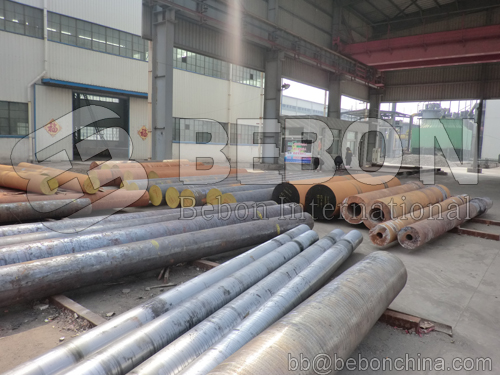 ASTM4620H steel
AISI 4620H is a nickel-molybdenum steel. The following data sheet provides an overview of AISI 4620H alloy steel.
ASTM4620H Chemical composition %:
Grade

Chemical composition %:

C

Si

Mn

S

P

Mo

Ni

ASTM4620H

0.17-0.23

0.15-0.35

0.35-0.75

≤0.040

≤0.035

0.2-0.3

1.55-2
ASTM4620H mechanical properties:
Grade

Mechanical properties:

Tensile strength σb
(Mpa)

Yield strength σb
(Mpa)

Elongation at break

Reduction of area

Hardness


min

min

min

min

max

ASTM4620H

600

380

30.70%

68%

192HB
Notes:
1,ASTM4620H specification: DIA 80-1200mm(forged round bar), 80-1200mm(square bar) Length 3-16 meters
2, ASTM4620H heat treatment: Quenching,Annealing,Normalizing and Tempering.
3, ASTM4620H tolerance: 0-+3mm(DIA), 0-+10mm(Length)
Our company, Bebon international can produce all sizes of ASTM4620H forged steel round bar, ASTM4620H forged square bar, ASTM4620H forged shafts and ASTM4620H forged blocks.
Tags: ASTM A29/A29M 5130, AISI 4145, AISI 4140