:86-371-86151827 86151527
:0086-371-86011881
Henan Bebon International co.,ltd is a steel-bar-specialized factory, located in zhengzhou city, south of henan province. Found in 2000, it takes an area of 520,000 square meters.
50Mn Steel round bars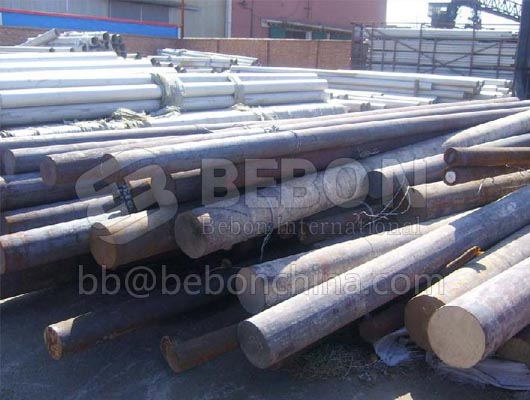 50Mn Steel round bar is a kind of high-quality carbon structural steel bar which under GB/T 699-1999 standard. More information about 50Mn steel round bar chemical composition and 50Mn Steel round bars details, please see the following.
50 Mn steel round bar details:
1, 50Mn specification: DIA 80-1200mm(forged round bar), 80-1200mm(square bar) Length 3-16 meters
2, 50Mn heat treatment: Quenching,Annealing,Normalizing and Tempering.
3, 50Mn tolerance: 0-+3mm(DIA), 0-+10mm(Length)
50Mn steel round bar Chemical composition %:

Grade

Chemical composition %:

C

Si

Mn

S

P

Cr

Ni

Cu

50Mn

0.48-0.56

0.17-0.37

0.70-1.00

≤0.035

≤0.035

≤0.25

≤0.30

≤0.25
50Mn steel round bar mechanical properties:

Grade

mechanical properties:

Tensile strength σb
(Mpa)

Yield strength σb
(Mpa)

Elongation σb
(%)

reduction of area
ψ (%)

Hardness
No heat treatment

Impacting Energy Akv (J)

Notched bar impact strength
αkv (J/cm2)

min

min

min

min

max

min

min

50Mn

645(66)

390(40)

13

40

255HB

31

39(4)
50Mn's strength, elasticity and hardness are all higher. 50Mn is usually used after quenching and tempering and 50Mn's welding performance is poor. 50Mn round steel is used in the manufacture of high requirement of abrasion resistance, high load under the action of heat treatment of parts, such as gear, gear shaft and cross section under 80 mm spindle, etc. The property of 50Mn is similar with 50# steel. But 50Mn's hardenability is higher and 50Mn's strength, hardness, elasticity is higher than 50# steel. 50Mn has poor weldability, sensitivity and temper brittleness tendency for overheating.50Mn is used as a stress parts, high wear-resistant parts, high stress components, such as spindle less than 80 mm in diameter. After high frequency quenching ,50Mn can also manufacture train axle, worm, and automotive crankshaft, connecting rod, such as gears. Gear shaft. The friction plate. Spindle. Flat spring, etc.
Our company, Bebon international can produce all sizes of 50Mn forged steel round bar, 50Mn forged square bar, 50Mn forged shafts and 50Mn forged blocks.