:86-371-86151827 86151527
:0086-371-86011881
Henan Bebon International co.,ltd is a steel-bar-specialized factory, located in zhengzhou city, south of henan province. Found in 2000, it takes an area of 520,000 square meters.
S55C Steel round bar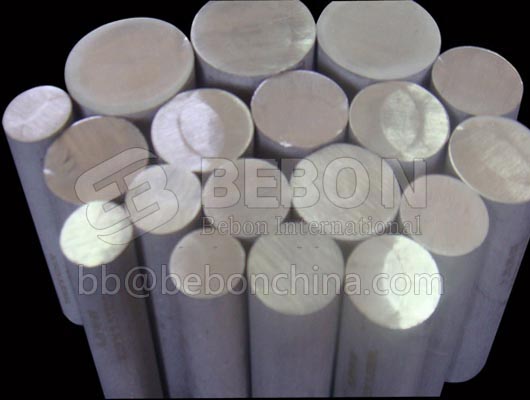 S55C Steel round bar is a kind of high quality carbon structural steel and S55C is a Japanese steel grade. S55C is similar with Chinese material 55# steel. S55C steel is full-killed steel manufactured by the process of electric furnace, open hearth or made in pure oxygen converter. S55C has the characteristics of excellent processability, uniform microstructure. The price for S55C is cheap and it is easy processing,suitable for surface hardening treatment, such as high frequency quenching and flame hardening. The material S55C has good wearing resistance. The status of supply and hardness: 149~192HBS,183~255HBS, 229~285HBS.
S55C Steel round bar specification:
DIA: 80-1200mm(forged round bar), 80-1200mm(square bar)
Length: 3-16 meters
S55C tolerance: 0-+3mm(DIA), 0-+10mm(Length)
S55C heat treatment: Quenching,Annealing,Normalizing and Tempering.
S55C Steel round bar Chemical composition %:

Grade

Chemical composition %:

C

Si

Mn

S

P

Cr

Ni

Cu

S55C

0.52-0.58

0.15-0.35

0.60-0.90

≤0.035

≤0.030

≤0.20

≤0.20

≤0.30
S55C Steel round bar mechanical properties:

Grade

Mechanical properties:

Tensile strength σb
(Mpa)

Yield strength σ0.2
(Mpa)

Elongation δ5/(%)

Percentage reduction of areaψ (%)

Notched bar impact strength

compressive strength
(MPa)

min

min

min

min

min

min

S55C

735

372

22

38

35J/cm2

350
Our company, Bebon international can produce all sizes of S55C forged steel round bar, S55C forged square bar, S55C forged shafts and S55C forged blocks.