:86-371-86151827 86151527
:0086-371-86011881
Henan Bebon International co.,ltd is a steel-bar-specialized factory, located in zhengzhou city, south of henan province. Found in 2000, it takes an area of 520,000 square meters.
Roller round bar GB/T 13315 9Cr2MoV
GB/T 13315 9Cr2MoV alloy steel
can be produced into 9Cr2MoV round bar. 9Cr2MoV roller steel can be applied in manufacturing roller, squeeze roll, cold-punching mould and formed punch etc. Bebon International can supply roller round bar GB/T 13315 9Cr2MoV.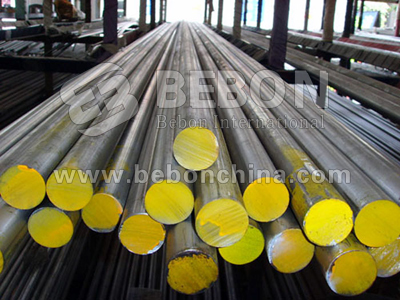 9Cr2MoV round bar specifications:
Diameter: 5mm-1200mm ,the forged round bar is 80mm-1200mm
Length: 1000-12000mm
Surface: Black, bright, ground
9Cr2MoV roller steel round bars are mainly used to manufacture parts which bears high stress, such as hot oil pump shaft, and some papermaking industries, medical equipment, dinnerware and household appliance etc.
9Cr2MoV round bar finished condition:
Hot forged +Normalized+ Rough turned
Based on the pursuit of better quality, perfect service and shorter delivery time of
9Cr2MoV round bar
, everyone involved in Bebon international are trying best. We have formed a strong producing and selling team of 9Cr2MoV round bar through years' development, so we are very confident of ourselves both in strength and reputation. Want to get more information of 9Cr2MoV round bar or other steels, please contact Bebon international co., ltd. We are here for you.