:86-371-86151827 86151527
:0086-371-86011881
Henan Bebon International co.,ltd is a steel-bar-specialized factory, located in zhengzhou city, south of henan province. Found in 2000, it takes an area of 520,000 square meters.
20Mn2 steel round bar Heat treatment process
20Mn2 steel round bar is a kind of alloy structural steel. 20Mn2 steel round bar has the characteristics of moderate strength, good low temperature performance, weldability and cutting ability. Due to the appropriate hardenability, after the appropriate metal heat treatment, the microstructure is homogeneous in the sorstenite, bainite or extremely fine pearlite, thus having a higher tensile strength.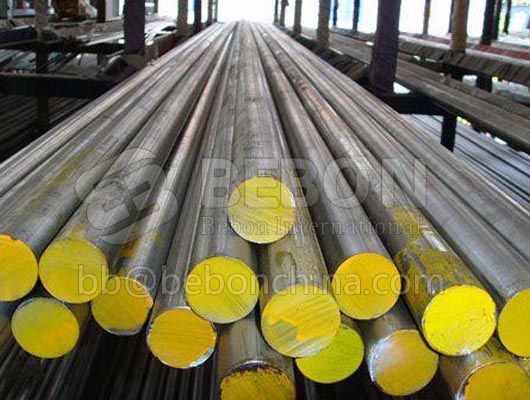 20Mn2 steel round bar chemical composition
C

Si

Mn

Cr

Ni

Cu

P

S

≤

≤

≤

≤

0.17~0.24

0.17~0.37

1.40~1.80

0.30

0.30

0.25

0.035
20Mn2 steel round bar mechanical property
Tensile Strength(σb/MPa)

Yield point(σs/MPa)

Elongation(δ5/%)

Reduction of Area(ψ/%)

Impact Absorbing Energy(Aku2/J)

Brinell Hardness(HBS100/3000)

Annealing or High Tempering

≥785

≥590

≥10

≥40

≥47

≤187
20Mn2 steel round bar Heat treatment process
Tempering temperature / ℃ 220 coolant water. Air heat treatment: quenching (water, oil quenching) the first quenching 850, tempering (water, air cooling), carburizing.
20Mn2 steel round bar is used in the manufacture of surface and center of request is not high, the size of the cross section diameter < 50 mm of carburized parts, such as cars, tractors and machine tool manufacturing instead of 20Mn2 steel round bar production in carburizing and small gear, shaft, low requirements of piston pin, cross pin head, sleeve, diesel engine valve plunger, gearbox joystick, steel bushing, etc.