:86-371-86151827 86151527
:0086-371-86011881
Henan Bebon International co.,ltd is a steel-bar-specialized factory, located in zhengzhou city, south of henan province. Found in 2000, it takes an area of 520,000 square meters.
35Cr steel round bar Mechanical properties
35Cr steel round bar is alloy structural steel, 35Cr steel round bar with 30Cr steel belongs to high strength and toughness of carbon in the alloy quenched and tempered steel, ultimate strength is higher than the corresponding brand of 35 steel 20%, hardenability was a little higher than 30Cr, process performance and other similar to 30Cr.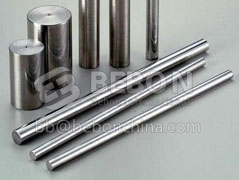 35Cr steel round bar Chemical composition(%)
Grade

The Element Max (%)

C

Si

Mn

Cr

Mo

35Cr

0.32-0.39

0.17-0.37

0.50-0.80

0.80-1.10

Ni

V

W

B

Ti
35Cr steel round bar Mechanical properties
Grade

35Cr Mechanical Property

Thickness

Yield

Tensile

HB

35Cr

mm

Min Mpa

Mpa

HB

6-50

735

930

50-200

735

930
BBN steel,as a 35Cr steel round bar manufacturer in china, our purpose is offer quality product and competitive prices. We are believe that our 35Cr steel round bar will give your company a good interest. Welcome to your email, we will do our best to help you.