:86-371-86151827 86151527
:0086-371-86011881
Henan Bebon International co.,ltd is a steel-bar-specialized factory, located in zhengzhou city, south of henan province. Found in 2000, it takes an area of 520,000 square meters.
65Mn Spring steel round bar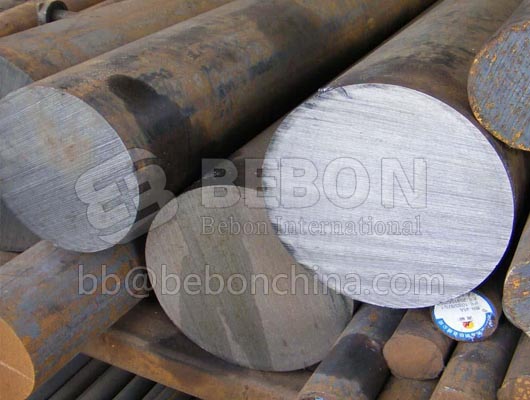 65Mn Spring steel round bar is dedicated to manufacturing various springs and elastic element or similar performance requirements of the main material of structure parts.
1. Performance requirements (1) the high elastic limit sigma than sigma s/e and QuJiang sigma b, to ensure good elastic performance, namely absorbs a great deal of flexibility can not produce plastic deformation; (2) high fatigue limit and fatigue is the main damage form of spring, one of the fatigue performance except is associated with the composition structure of steel is mainly affected by the steel metallurgy quality (such as non-metallic inclusions) and the surface quality of the spring (such as decarburization); (3) enough plasticity and toughness, in order to prevent the impact fracture; (4) other properties, such as the performance of heat treatment and plastic processing, the special work under the conditions of heat resistance and corrosion resistance requirements, etc.
2. The composition characteristics of the content of carbon and alloying elements in steel and function is: (1) in medium and high carbon generally, carbon spring steel wc = 0.6% ~ 0.9%, alloy spring steel wc = 0.45% ~ 0.70%, after quenching temperature tempering with China get tempering austenite organization, can guarantee the performance requirements of the spring. (2) alloy elements of general purpose alloy spring steel is generally low alloy steel. Main elements of Si, Mn, Cr, etc., its main function is to improve the hardenability, solid solution strengthening matrix and improve tempering stability; Additional elements of strong carbide forming elements such as Mo, W, V, main effect is to prevent from decarburization Si, Mn, overheating caused by defects and improve tempering stability and heat resistance, etc.
3. The spring steel is commonly used in table 12-10 for our common spring steel grades, characteristics and main purposes, its composition, heat treatment process and mechanical properties can be reference to the relevant national standards (e.g., GB1222-1984). Table 12-10 common types of the brand performance characteristics and application of the main spring steel steel grade performance characters must use carbon spring steel ordinary amount of Mn 65 hardness, strength, QuJiang ratio is high, but the hardenability poor, poor heat resistance, ability to withstand dynamic load and fatigue load low price is low, more applied to the working temperature is not high, small spring < 12 mm or not important spring 7085 higher amount of Mn 65 Mn hardenability, comprehensive mechanical performance is better than that of carbon steel, but is more sensitive to hot low price, amount is large, making all sorts of small cross section < 15 mm flat spring, spring, shock absorber and clutch reed, brake shaft alloy spring steel, such as Si - Mn 55 si2mn high strength, good elasticity, resistance to tempering stability; But the easy decarburization and graphitization. Spring steel containing B steel hardenability obviously increase the main class, USES is very wide, can manufacture all kinds of medium section < 25 mm important spring, such as automobile, tractor plate spring, spring, etc
60Si2Mn55Si2MnB55SiMnVBCr is 50 crva good hardenability, high tempering stability, decarburization and low graphitization tendency; Comprehensive mechanical properties, corrosion resistance to a certain extent, V, Mo, W elements such as spring has a certain resistance to high temperature; Due to high quality steel, therefore, to further improve fatigue performance used in the manufacture of large load heavy large size (50 ~ 60 mm) important spring, such as engine valve spring, the spring hook spring, crusher, spring of conventional weapons, Hot springs, such as boiler safety valve spring, spring nozzle ring, cylinder, etc.
60CrMnA 60CrMnBA 60CrMnMoA 60Si2CrA 60Si2CrVA1 carbon spring steel (i.e., the alloy spring steel) the price of the cheaper but less hardenability, suitable for small size of cross section of important spring, of which 65, 65 mn the most commonly used. 2) alloy spring steel according to different main adding alloy element types can be divided into two broad categories: Si - Mn spring steel and Cr is spring steel. The former hardenability is relatively high carbon steel, the price is not expensive, therefore, the most widely used, mainly used for all kinds of springs, cross section size is not more than 25 mm 60 si2mn is its typical representative; The latter has good hardenability.